The company TREZOR TEST s r.o. is a private corporation, founded on 15 February 1994 by the leading Czech experts, it provides complex testing and certification services for mechanical security systems and alarm emergency systems.
The company operates based on successful accreditation by the Czech Accreditation Institute – www.cai.cz – for the following scope of accredited activities:
---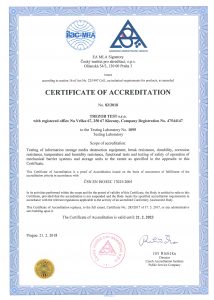 Testing Laboratory no. 1095 accredited according to ČSN EN ISO/IEC 17025
testing of information storage media destruction equipment
testing of break resistance
durability, corrosion resistance, temperature and humidity resistance
functional tests and testing of safety of operation of mechanical barrier systems and storage units
Annex to the certificate – Testing laboratory
---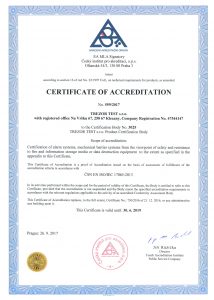 Certification body no. 3025 accredited according to ČSN EN ISO/IEC 17065
certification of alarm systems

certification of 

mechanical barrier systems from the viewpoint of safety and resistance to fire

certification of 

information storage media or data destruction equipment
Annex to the certificate – Certification body
---
The accreditation proves that the testing laboratory and the certification bodies have authorised TREZOR TEST to objectively and independently perform testing and certification within the scope of accreditation see www.cai.cz. Due to the fact that the Czech Accreditation Institute is the co-signatory of the accreditation and the results are mutually recognised (see www.cai.cz)  TREZOR TEST'S certificates are issued in multilingual versions and accepted internationally (in signatory countries to the arrangements mentioned above).
---
In addition to the above mentioned accreditation, the company TREZOR TEST s.r.o. has concluded an acceptance agreement of testing and certification results with the National Security Authority of the Czech Republic www.nbu.cz according to the Act no. 412/2005 Col., on protection of classified information.
---
Company management:
Ing. Kamil Maryško
head of testing laboratory
+420 602 653 373
Ing. Petr Koktan
head of certification body
+420 603 439 580